Houston Area Home Safety: Sewage Backup Prevention
2/23/2017 (Permalink)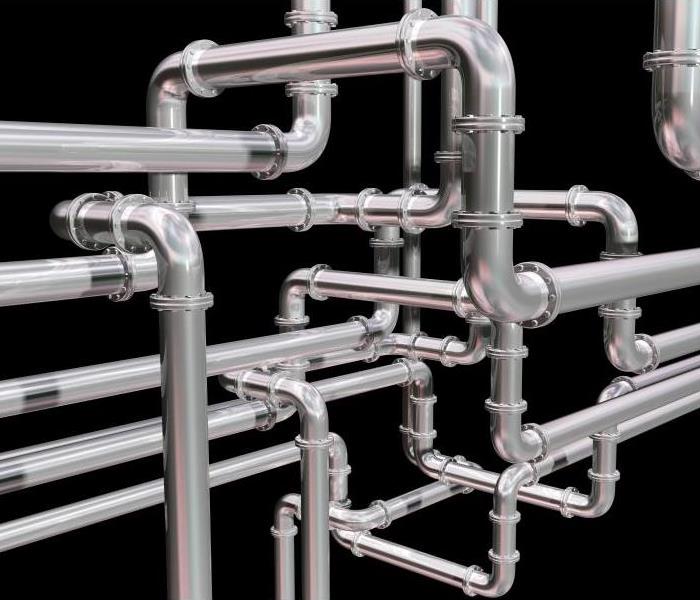 Every pipe around and in your house has the potential to cause flooding and sewage backup. Take precautions to prevent this type of damage.
Few things are as devastating to a home as sewage backup. Whether it is caused by a failed septic tank, clogged drain or ruptured main line, it is essential that cleanup begin immediately to prevent further damage and the possibility of disease. However, if you do find sewage on your property, do NOT attempt to clean it up on your own. Due to the potential for contamination, this type of event is typically covered under insurance. SERVPRO Clear Lake is available 24 hours a day for emergency sewage cleanup and restoration, and we can work directly with your insurance company to get your property clean, dried and dehumidified properly.
Hopefully, you can avoid a sewage backup in the first place. Here are four ways to help prevent damage from a sewage backup.
Never pour oils or fats down the drain. This is true whether you are on a municipal sewage system or a septic system. Oils and fats congeal in the pipes and can cause hair, toilet paper and other items to build up, creating a severe blockage. For clogs inside the home, a backup could be minor; however, a clog from the main line can cause significant sewage spillage that can damage walls, floors, furniture and other personal items. Prior to rinsing dishes, pots and pans, wipe thoroughly with paper towels and put the towels in the garbage.
Flush only toilet paper. Every plumber will tell you not to flush anything down the toilet other than toilet paper. Other items labeled as "safe for septic systems" or "safe to flush" truly aren't. The goal is to keep your pipes free from obstructions to help prevent water damage and sewage backups at your home or business.
Keep on eye on trees near the main line. Here in the Clear Lake area, trees often invade pipes, looking for water and fertilizer. Tree roots can cause significant damage requiring the total replacement of the pipe, in addition to severe sewage backups and water damage inside a connected property. If you start to notice trees, bushes or shrubs growing more rapidly than before, or an unexpected green area in your lawn, call a licensed and insured plumber immediately to evaluate your main line.
If you have a septic system, schedule an annual pumping (or as required). Septic systems can fail, resulting in costly damage to your property. It is vital that you keep an eye on septic levels, and when needed, have the system pumped. Talk to your plumber or septic system specialist about installing an alarm in the system and perhaps a backflow valve to help keep the damage of a septic flood to a minimum.
The damage to your property and personal belongings takes a huge emotional toll. Due to the potential for microbial and bacterial contamination of sewage, it is imperative that you allow a professional emergency water damage response team to clean damaged personal belongings.
Your locally owned and operated SERVPRO has the necessary expertise, tools and resources to properly clean and sterilize your items. Depending on the item and the level of cleaning and restoration required, we may employ dry cleaning, wet cleaning, foam cleaning, immersion cleaning or abrasive cleaning techniques. Call us immediately when disaster strikes: we can be onsite in a matter of hours to begin the cleaning and restoration process.
SERVPRO Clear Lake helps make it like it never happened, helping residential and commercial property owners when natural disasters, water damage, sewage backups, floods, fires, mold infestations and other events happen. Call 713-461-2700 when you need emergency help.